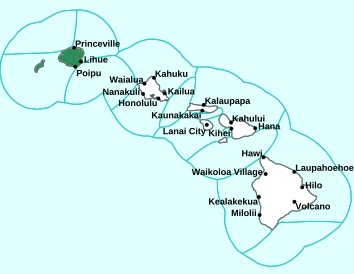 Expect more rain and thunderstorms through Thursday morning.
A low pressure system near Kauai will lift away to the north Wednesday night and drag a deep layered convergence band across Oahu through Hawaii Island. This will result in heavy rain and thunderstorms with the potential to produce flash flooding.
Maui County will have the highest chance with Oahu and Hawaii Island more of a periphery flash flood threat. Saturated grounds from previous rains will mean less accumulation than usual will be necessary for flash flooding.
As of Wednesday afternoon, Maui County received the bulk of the heavy rain, which is slowly moving west. When we get rain from the west or south, it typically hits upcountry areas and drains into Kihei, which could trigger landslides.
Future radar shows the bulk of the heavy rain and thunderstorms over Maui and possibly Hawaii Island.
Kauai and Oahu may get a stray heavy downpour or two, but the worst appears to be over for the western end of the island chain.
Send your weather-related photos and video to us via Report It.
Note: Kauai radar remains out of service through March 8.
---
Flood Advisories
No flood advisories are currently in effect.
PRECAUTIONARY/PREPAREDNESS ACTIONS
Stay away from streams, drainage ditches and low lying areas prone to flooding. Rainfall and runoff will also cause hazardous driving conditions due to ponding, reduced visibility and poor braking action. Do not cross fast flowing or rising water in your vehicle, or on foot. Turn around, don't drown.
Flash Flood Watch
A flash flood watch is in effect for Kahoolawe, Lanai, Maui, Molokai, Oahu and Hawaii Island through late Wednesday.
Kauai is no longer under a flash flood watch.
A flash flood watch means that conditions may develop that lead to flash flooding. Some streams and normally dry gulches are expected to run high and could quickly overflow their banks. Intense rainfall in poor drainage and urban areas could also lead to flash flooding.
Brown Water Advisories
Brown water advisories have been issued for the islands of Kauai, Oahu, and Maui due to heavy rains.
The public is advised to stay out of flood waters and storm water runoff due to possible overflowing cesspools, sewer manholes, pesticides, animal fecal matter, dead animals, pathogens, chemicals, and associated flood debris. Not all waters may be affected, however if the water is brown stay out and continue to practice good personal hygiene and follow up with your primary care physician if you have any health concerns.
Colburn St.
Sunset Beach
Kamehameha Hwy.
Ke Nui Rd.
Kamehameha Hwy.
Kamehameha Hwy.
---
Road Closures
There are no major road closures at this time.
Click here for KHON2's Live Traffic Map.
---
Closures
Waimea Valley will be closed for at least two days, Wednesday and Thursday, due to major flooding. An assessment will be made when it will reopen to the public after the wet weather has subsided.
Boats to the USS Arizona Memorial were suspended Wednesday. However, visitors can still get a USS Arizona Memorial program ticket to see a 25-minute documentary film in the theater. The Pearl Harbor Visitor Center and partner sites, including the Battleship Missouri, the Pacific Aviation Museum, and the USS Bowfin Submarine Museum and Park, remain open as usual.
Honolulu Zoo is closed Wednesday due to ponding on the walkways.
West Loch and Ewa Villages municipal golf courses are closed. Play has been suspended at Ted Makalena and Pali golf courses. Ala Wai Golf Course is open on paths only. Kahuku Golf Course is open.
School Closures and Cancellations
Hanalei School is closed Wednesday. All other DOE schools are open.
The school bus transportation service from Haena to Hanalei will not be operating. Students living in Hanalei to Haena that attend Kapaa Middle and Kapaa High schools will not have school bus transportation service.
The Spread the Word event at Farrington High School has been canceled due to weather. Organizers have not made a decision on rescheduling at this time.
---
Warning Siren Test
The state's monthly test of the statewide outdoor warning siren system, originally set for 11:45 a.m. Wednesday, March 1, has been postponed. The state and counties jointly agree it would be best to reschedule the testing so as to avoid public confusion. Current severe weather conditions may cause area residents to mistake the testing of the siren for an actual emergency alert. The test is rescheduled for Friday, March 3, at 11:45 a.m.
---