Share your weather-related photos and videos via Report It here.
Expect spotty heavy rain throughout the evening for the interior areas of all islands, particularly on Oahu and Maui.
Daytime heat triggered another round of thunderstorms Thursday afternoon, though not widespread, in various parts of the state.
While some of those storms will ease as night falls, the threat of heavy rain remains through Friday. Thunderstorms could pop up sporadically again, just like they did Thursday.
Conditions will gradually clear this weekend.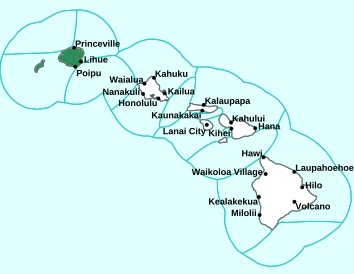 A flood advisory is in effect for the island of Hawaii until 11:30 p.m.
Radar indicated heavy rain near Naalehu, or near Kawa Flats. Rain was falling at a rate at near an inch an hour.
Locations in the advisory include but are not limited to Naalehu, Kawa Flats, Punaluu Beach, Pahala, Waiohinu and Discovery Harbour.
A flash flood watch is in effect for all islands through late Thursday.
Flash flooding potential will remain high due to a combination of an upper disturbance over the region and plenty of lingering moisture and instability.
The watch was extended as unstable weather conditions carried over into Thursday and will likely be extended again Friday.
Hawaii Island
Hawaii Island saw bouts of severe weather Thursday afternoon as parts of the island were under a flash flood warning.
Hawaii Electric Light Company crews reported several power outages, which also triggered traffic signal outages at various intersections along Kanoelehua and Kilauea avenues. Power was restored about 90 minutes later.
A severe thunderstorm warning was also in effect for the eastern portions of Saddle Road, where hail was spotted.
Many of our viewers couldn't help but pull over and share their finds with us.
Interactive Radar
Statewide radar
Oahu
Kauai
Maui
Hawaii Island
Molokai